Frequently
Asked Questions
What is Resilient Northeastern New Jersey?
Resilient Northeastern NJ is a project that brings together planners, engineers, designers, and other experts to address flood related hazards at a regional scale. The project is administered through the NJDEP Bureau of Climate Resilience Planning and is a joint effort between Jersey City, Newark, Hoboken, Bayonne, Hudson County, Ironbound Community Corporation, and HOPES Community Assistance Partnership. Communities are partnering with NJDEP to lead similar projects in these other areas: 
Raritan River and Bay 

Communities

(

Middlesex County,

Woodbridge, Old Bridge, Sayreville, South Amboy, Perth Amboy,

South River,

and Carteret)

 

Long Beach Island

(Long Beach, Beach Haven, Barnegat Light, Ship Bottom, Harvey Cedars, and Surf City)

 

Atlantic County Coastal Region (Ventnor, Atlantic City, Longport, Margate, Northfield, Pleasantville, and Brigantine)

 
For more information on these other projects, visit  resilient.nj.gov.  
Resilient Northeastern NJ will provide a clear roadmap for reducing flood risk through deep collaboration between local and state governments and community organizations, along with valuable input from the public and other stakeholders. Helping people and places in the region thrive for decades to come, the project will leverage best practices, conduct equitable engagement, and support regional planning to increase resilience and create social, environmental, and economic benefits for all who will share in the region's future. 
What is resilience?
Resilience means being able to adapt to changing conditions, such as those driven by climate change, and to grow in the face of disruption or challenges. We are working to make our region more resilient by making physical changes that will reduce flood damage, while building strong civic and governance systems that support inclusive decision-making. This will help us adapt to changing conditions as we learn more about climate change. Ultimately, we want to advance projects that reduce risk while building the kind of region we want for our communities and the next generation. 
Who is involved in Resilient Northeastern New Jersey?
Resilient Northeastern New Jersey is a partnership between Jersey City, Newark, Hoboken, Bayonne, and Hudson County; the community-based organizations Ironbound Community Corporation and HOPES CAP, Inc.; and an Arcadis-led team of consultant partners that also includes SCAPE, ONE Architecture, InGroup, Irys, Heyer Gruel and Associates, and Sam Schwartz Engineering.

Why is my community participating in this project?
Northeastern New Jersey has been shaped by its relationship with water, including the impacts of frequent flooding and severe storms. As flood risk increases from more intense storm events and sea level rise, it threatens our way of life. Policies, plans, and actions that address flood risk can be leveraged to address these needs and improve quality of life.
The communities in Northeastern New Jersey have already taken steps to address flood risks including evaluating risks, implementing policy changes, and constructing mitigation projects. This project provides a unique opportunity for these communities to join together to collaborate on a regional strategy for resilience, alongside regional infrastructure providers, utilities, and non-profit organizations.
What makes this project different from other flood protection projects completed in Northeastern New Jersey?
The widespread and severe impacts of Hurricane Sandy in 2012 underscored the need for the region to strengthen resilience to extreme weather events and coastal flooding. While the region has strengthened its flood resilience since Sandy, the partnering municipalities are coastal communities that still face threats from climate change and sea level rise. These communities have prioritized decreasing flood risks resulting from coastal and precipitation conditions.
But, substantial challenges remain.
Urban density, lack of permeable green spaces, large areas of impervious coverage, shallow bedrock depth, and combined sewer-stormwater management infrastructure challenges all contribute to the region's ongoing flood risk.
Investing in a regional strategy is vital to the long-term resilience of the critical systems that serve these communities. The regional nature of this project will hopefully help identify funding sources to implement the proposed projects. This strategy also means committing to an equitable approach for resilience. It is critical to engage the people most affected by these decisions in order to ensure an impactful outcome. By working together and planning with our communities, we can create change that can and will benefit people for generations.
As a regional collaboration effort, this project aims to identify strategies that can only be accomplished at a regional level and support gaps in local efforts. As such, the project will help advance, leverage, and honor other ongoing work in the area, but not supplant, duplicate, or disrupt it. To view a list of other ongoing efforts in the region that we are aware of and working to align with, please click HERE.
Will Resilient Northeastern New Jersey impact me?
The short answer is yes, because of the reasons below, among others:
If you live or work in the region, you likely have been affected by flooding or know someone who has. This initiative to develop a regional resilience strategy will aim to reduce the future impacts that flooding will have on your daily life.
Protecting regional resilience means identifying and implementing changes to our neighborhoods, waterfronts, and open spaces that can protect the community for generations.
If you live or work in the region, decisions made or not made as part of this project will affect your life and your community because these decisions will likely change the way some of the spaces in your community look and function.
What's the timeline for this project?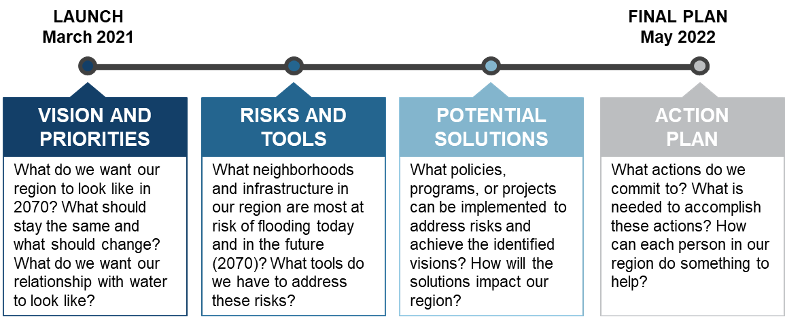 What kind of solutions might the plan recommend?
The plan is working to address flooding that might come from coastal storms, high tides, heavy precipitation, and overflow of riverbanks. Solutions that might help address these risks include physical projects, such as flood walls or drainage solutions, new park space to help capture water, or other infrastructure. Other recommendations could include new land use policies, engagement action, or new decision-making processes. However, all recommendations will be developed following multiple conversations with community members and stakeholders, so that they align with residents' priorities.
How can I get involved?
Your input is critical to supporting the development of an effective roadmap for flood risk reduction. Below are some of the ways you can participate in the process. We will continue to expand these public involvement opportunities as we hear from you about what works for you and the people you know.
We're gathering your feedback right now through a series of survey questions targeted at understanding your vision and priorities for your community. Both the survey questions and the email list can be accessed through the following links and QR Codes: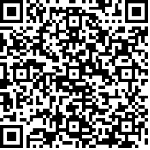 You can also participate by:
Downloading our engagement app: We encourage you to download the Irys app, which is available on your mobile phone through the Google Play Store and the App Store. This useful tool provides program information, meeting schedules, and surveys and enables you to submit information about flood risks in your neighborhood.
Download link for iOS devices
Download link for Android devices
Visiting our interactive website: www.resilient.nj.gov/nenj
Calling the project phone hotline – Leave a voicemail at 201-275-0861
Emailing us your feedback at ResilientNENJ@dep.nj.gov
Participating in virtual public meetings and focus groups – During the visioning process, we are conducting a listening tour by working with partners to reach people where they're at – through existing meetings and outreach. As the project progresses and we learn more about priorities, we will host public meetings and plan additional outreach.
We are providing all of these options to participate because ensuring equitable processes and outcomes is critical to the success of Resilient Northeastern New Jersey. To help accomplish this goal, the project team is seeking the input of all community stakeholders, including socially vulnerable and underserved populations.
What do we mean when we say equity?
This project has the potential to impact thousands of people in underserved communities, for generations to come. Therefore, incorporating the principles of diversity, equity, and inclusion into project processes and outcomes is critical to the success of Resilient Northeastern NJ.
OUR DEFINITIONS
Diversity
Variety and differences in the people who participate in project processes, whether by their experiences, race, culture, age, language, or other characteristics
Equity
Goes beyond equality, which is fair and just treatment of all potential and existing community members
Means ensuring that decision-making processes and project outcomes, including burdens and benefits, are responsive to the diverse needs, challenges, and histories of people who could be affected
Involves creation of opportunities to address historic, current, and future disadvantages for underrepresented populations
Inclusion
Is achieved when a diverse group of people feel and are welcomed into decision-making and project processes
OUR COMMITMENTS TO INCORPORATE DIVERSITY, EQUITY, AND INCLUSION
Ensuring that project processes prioritize the voices of historically underserved communities
Acknowledging and confronting our country's history of systemic racism and discrimination
Sustaining action and assessment of progress towards equitable resilience goals and towards the reduction of existing disparities
SOME WAYS THAT WE ARE WORKING TO ACCOMPLISH THIS INCLUDE:
Reaching out to potential partner organizations to help lead engagement and get input from the people they serve
Providing multiple different ways to engage as easily as possible
Providing ways to get and receive information in multiple languages
Creating a Community Advisory Council made up of a diverse group of residents from each community
How will you use my feedback?
The project team is conducting the project in "waves" to ensure that it integrates stakeholder feedback. Each wave will include key decisions, informed by previous information the team received from you and others who provided feedback. While the project team cannot respond directly to every comment, we will carefully review each one of these comments and integrate them into the work, as appropriate. In each wave, the project team will share a blog post on the website (www.resilient.nj.gov/nenj) that summarizes what we heard and how we have integrated the feedback. We will also continue to add to these FAQs. Other feedback we receive can be viewed directly on the website and within the Irys app (available on the Google Play Store and the App Store). Actionable feedback that may not be directly relevant to the project will be shared with the municipalities to support parallel planning processes.
Who's paying for the development of the plan?
The Resilient NJ Program is supported by a portion of the funds awarded to New Jersey through HUD's National Disaster Resilience Competition and administered through NJDEP's Bureau of Climate Resilience Planning.
Get Involved
Your input and involvement are critical to increasing the resilience of our communities. Opportunities to engage with the program will be updated periodically on the Get Involved page.
STAY IN THE LOOP
Sign up for periodic emails to stay up to date on program process.
EXPLORE OUR RESOURCE LIBRARY
The Resource Library contains our project reports, anytime and youth engagement materials, and other information about progress.