What is the vision for Resilient NJ? What solutions that you shared are we evaluating? How can you prepare for and recover from flooding? Here's what we talked about at Community Meeting #3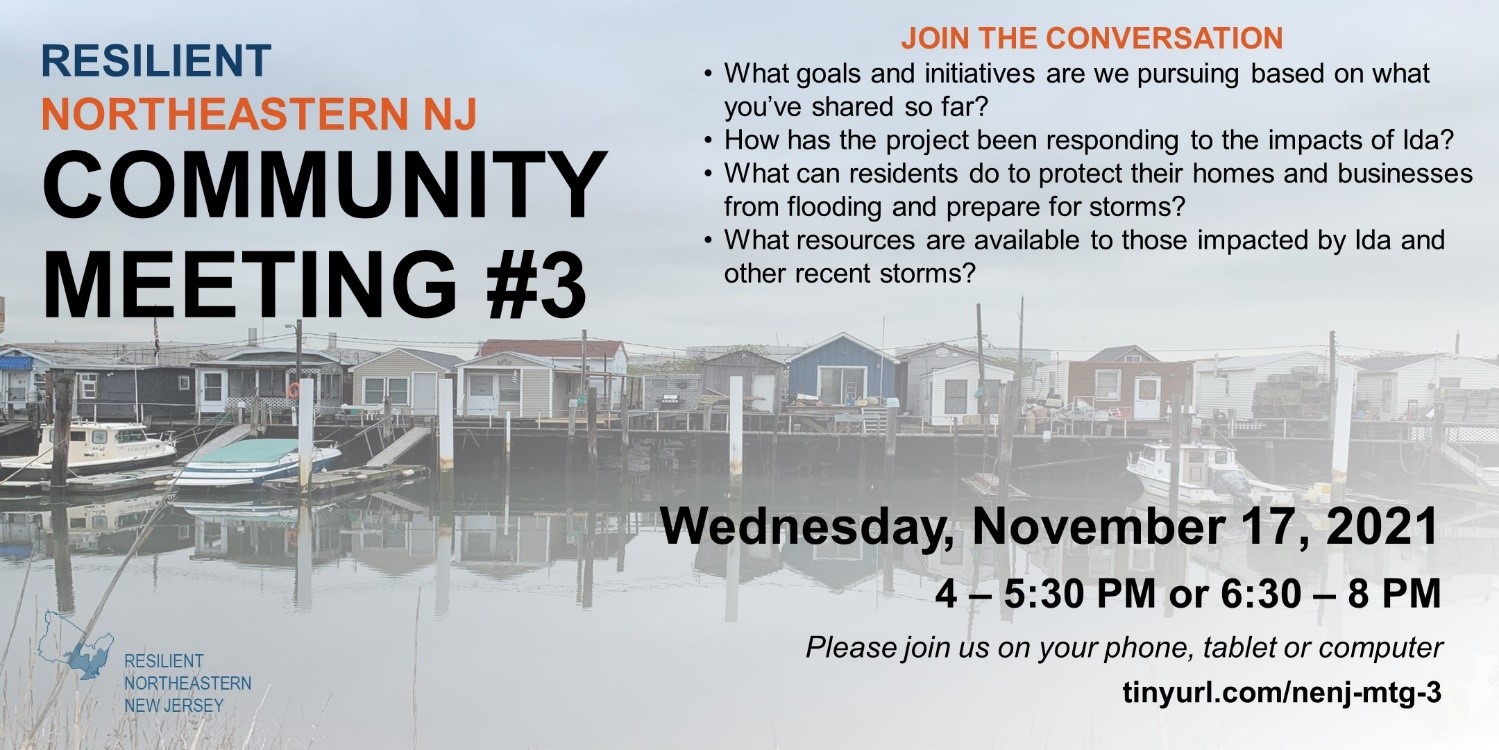 To respond to feedback that we've received about the need for information about flood preparedness, recovery, and actions individual residents can take to protect from flooding, we invited technical experts to speak about these topics and answer questions at Community Meeting #3. On Wednesday, November 17, we offered two virtual sessions in which we shared project updates (including our recently released Vision and Priorities report), asked for feedback, and led discussions in the following breakout rooms:
Vision & Next Steps: in this breakout, we shared information about solutions being explored based on what we've heard, how we're incorporating feedback, and next steps for the project
Risk Mitigation for Residents and Businesses: in this breakout, technical experts shared different solutions that individual community members can take to protect their home or business from flooding, such as floodproofing, installing stormwater tanks, or installing a green roof.
Financial Resources & Preparedness: in this breakout, technical experts and government officials shared information about how to improve preparedness for flooding, apply for individual assistance (IA) or Small Business Administration (SBA) funding after storms, and about flood insurance and how it is changing
We encourage you to check out the meeting slide decks or recordings to learn more about these topics! If you have any questions or feedback, you can reach out to us at resilientNENJ@dep.nj.gov or 201-275-0861, or feel free to reach out directly to the technical experts using the contact information below.
Meeting Survey
If you attended the meeting and have thoughts on how it went, we'd appreciate if you could take our meeting survey HERE to let us know!
Recordings
Slide Decks
Contact Information for Technical Experts
We greatly appreciate the time of these technical experts who joined us to share valuable information about how to prepare for, mitigate, and recover from flooding!
| | | | | | | |
| --- | --- | --- | --- | --- | --- | --- |
| Name | Company / Agency | Topic | Breakout | Email | Phone Number | Website |
| Bryan Miller | FEMA Individual Assistance | Individual Assistance | Financial / Preparedness | | 1-800-621-3362 | |
| Jack Camp | Small Business Administration | Small Business Administration Funding | Financial / Preparedness | john.camp@sba.gov | 404-387-2172 | |
| Andrew Farrell | Risk Reduction Group | Flood Insurance | Financial / Preparedness | | 866-599-7066 ext. 122 | |
| Sgt. Clinton Pagano | NJ Office of Emergency Management (NJOEM) | NJOEM and Preparedness | Financial / Preparedness | | 609-468-5166 | www.njsp.org, www.ready.nj.gov |
| Lance Visone | NJ Office of Emergency Management (NJOEM) | NJOEM and Preparedness | Financial / Preparedness | | | www.njsp.org, www.ready.nj.gov |
| Brian Shaw | Floodproofing.com | Floodproofing | Risk Mitigation | bshaw@floodproofing.com | 908-692-6616 | |
| Valerie Hufnagel | Hufnagel Landscape Design & Construction Group, Inc | Stormwater Management | Risk Mitigation (4-5:30pm) | valeriehufnagel@gmail.com | 201-869-5680 | |
| Selwyn Joy | Boswell Engineering | Stormwater Management | Risk Mitigation (6:30-8pm) | sjoy@boswellengineering.com | 201-641-0770 ext. 256 | |
| Michele Deery | LiveRoof | Green Roofs | Risk Mitigation | michele@riverbendnursery.com | 610-787-2710 | |