Resilient NJ
---
Northeastern New Jersey
Resilient NJ
---
Northeastern New Jersey
Resilient NJ
---
Northeastern New Jersey
Resilient NJ
---
Northeastern New Jersey
EXPLORE THE RESILIENCE ACTION PLAN
The Action Plan identifies strategies to increase community resilience and address hazards like flooding and heat in Jersey City, Newark, Hoboken, and Bayonne. The Action Plan was developed through collaboration between local and state leaders, community members, technical experts, and others and is intended to be a living document that is periodically updated as we work to increase resilience.
WHAT IS RESILIENT NORTHEASTERN NJ?
The Resilient Northeastern NJ program is a joint effort between the New Jersey Department of Environmental Protection (NJDEP), Jersey City, Newark, Hoboken, Bayonne, Hudson County, Ironbound Community Corporation, and HOPES Community Action Partnership. Through Resilient Northeastern NJ, people who live and work in the region have an opportunity to help make our communities less susceptible to flooding and other hazards while improving quality of life. The program is identifying and implementing strategies to improve long-term environmental and economic resilience in the region.
We invite you to follow us on Instagram @Resilient_NENJ and visit this website often to learn about how you can participate in the Resilient Northeastern NJ process and track the program's progress.
Want to stay in the loop on our progress? Join the email list to receive periodic updates and event information.
We release reports and engagement materials as we go, including materials that you can use in your own outreach and education. Check out materials in our resource library.
RESILIENT NORTHEASTERN NJ (RESILIENT NENJ) MISSION
Resilient NENJ will develop and implement strategies to reduce flood risk and impacts from climate-related hazards through collaboration between local and state governments and community-based organizations along with valuable input from the public and other stakeholders. Resilient NENJ will support regional investment, information, and resource sharing to help our people and places thrive in the decades to come. Our planning and decision-making will be driven by best available data, technical evaluation, and inclusive and equitable engagement. We will leverage best practices to create social, environmental, and economic benefits and bring value to those who live in the region now and for future generations.
WHAT IS RESILIENT NJ?
Resilient NJ, administered through the NJDEP Bureau of Climate Resilience Planning, brings together planners, engineers, designers, and other experts to address flood- and climate-related hazards.
For more information, visit resilient.nj.gov
Get Involved
Increasing resilience in our region of over 700,000 people is a community effort. Our Faces of Resilience series and public art projects are highlighting community members and leaders who are working to improve our communities and prepare for climate change. Learn more about these efforts and other ways that we have been engaging people in our project on our Community & Engagement page.
WHAT IS AT RISK?
The Flood Impact Assessment and Climate Hazards Assessment outlined the potential impacts if no action is taken.
WHAT CAN WE DO ABOUT IT?
The Action Plan page outlines the key steps recommended to address flooding, heat, and other hazards. The Solutions page highlights ongoing activities and more general tools available to us.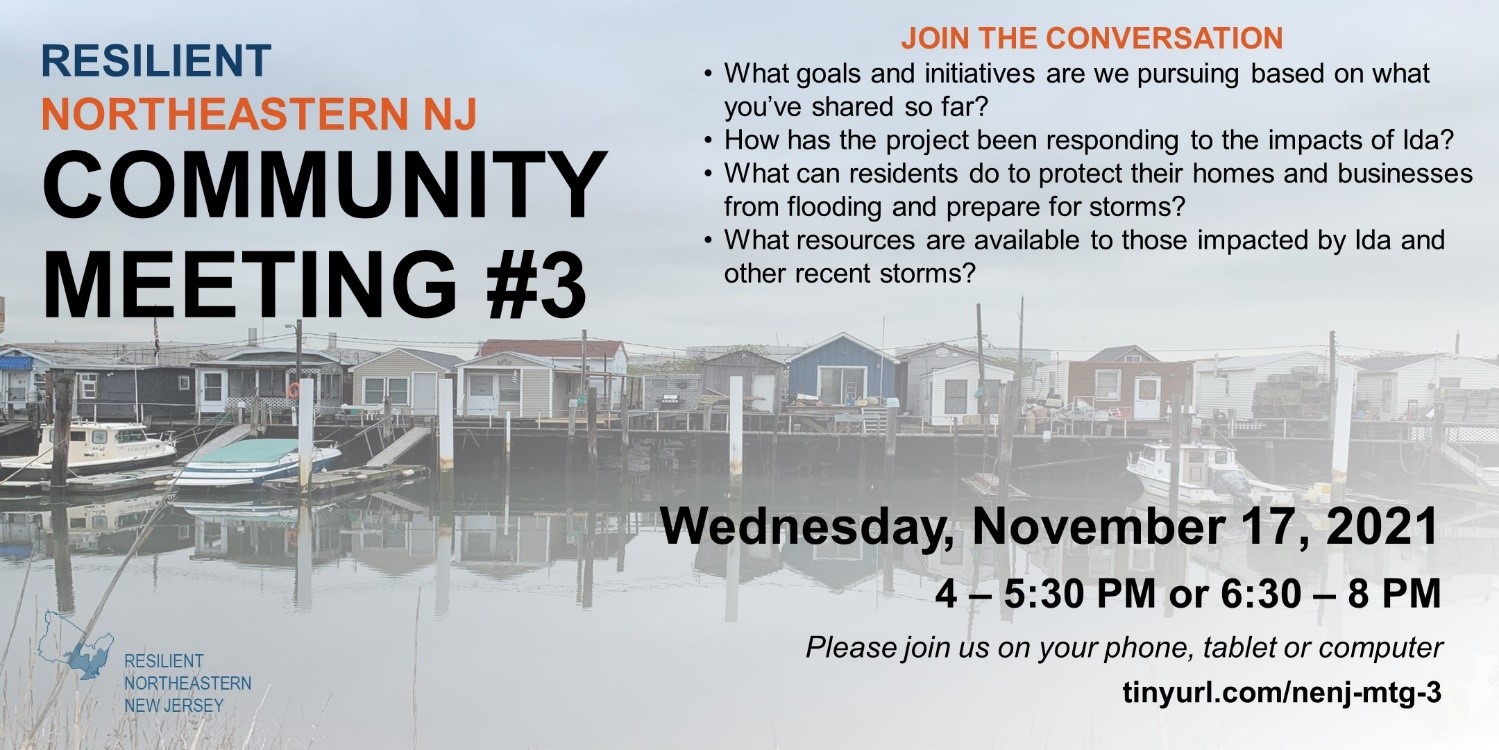 What is the vision for Resilient NJ? What solutions that you shared are we evaluating? How can you prepare for and recover from flooding? Here's what we talked about at Community Meeting #3 To respond to feedback that we've received about the need for information...
read more